Custom Gift Boxes
Regular price
$100.00 USD
Regular price
Sale price
$100.00 USD
Unit price
per
Sale
Sold out
These gift boxes are intuitively curated, so please follow the three steps below:
Step one: Choose your eco-luxe gift amount
Examples of what could be included in gift boxes:
$100 box could include a candle, a bath salt blend and a medium sized crystal
$150 box could include a candle, a bath salt blend, a roll-on essential oil and medium sized crystal
$200 box could include a candle, a bath salt blend, a roll-on essential oil and large sized crystal
$250 box could include a candle, a bath salt blend, a roll-on essential oil, 2 medium sized crystals, a natural soap bar, and natural lip balm
Step two: Let me know in the "order special instructions" section in your cart about the intention behind this gift. What is the theme? What is this person calling into their life? What are they letting go of? What are some words to describe this person? This information will help me curate the perfect box
Step three: Sit back relax and imagine this…
Your client receives a surprise gift in the mail, starts to open it, and is immediately taken back by the alluring aroma…
They continue to open the package and uncover a candle, crystal, and bath salt blend- specific to attracting more abundance into their life- which is exactly what you're working on together.
They feel seen, special and cared for.
They start running a bath, then light the candle, all the while with a huge smile across their face because they're reminded of your beautiful energy. They continue to have this memory of you every single time they light the candle, take a bath, or admire the crystal. It's like you're in their space. Every time they use these products they're going to think of the journey they went on with you.
What does this mean for you? Your brand will be top of mind to your customer. And with this curated, luxurious experience, not only will it elevate your brand, but they're going to keep coming back over and over again to buy from you. 
Curated buyer experiences are the best way to reflect your brand's uniqueness. 
And I can create this experience for you, so you can stay in your genius zone doing what you do best- coaching your people.
These gift boxes are the ultimate eco-luxe experience and are cleansed + activated before sendoff.

Share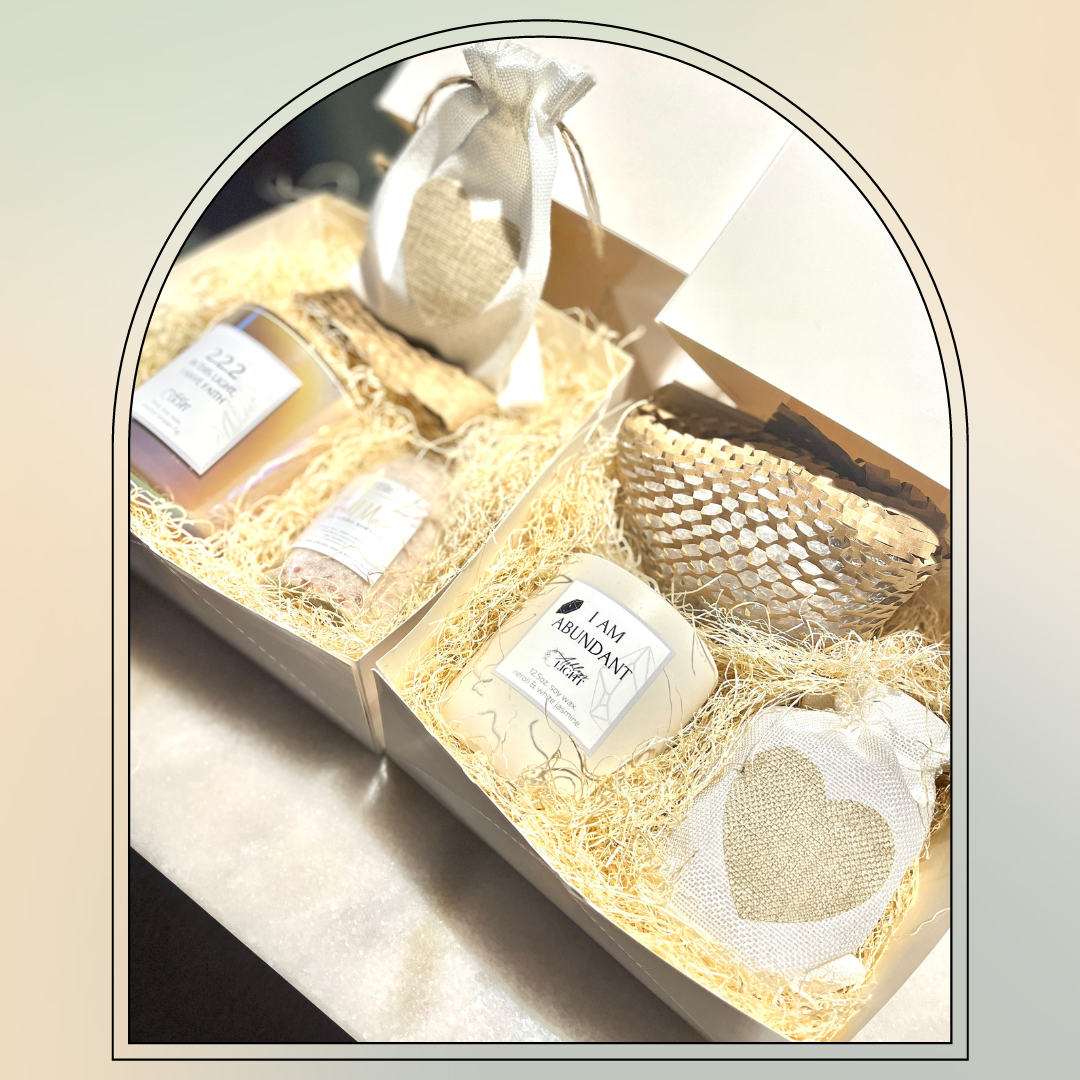 Shipping policy

Ashley's Light Shop is pleased to offer free shipping over $100 within the United States. 

Canadian buyers are responsible for any customs and import taxes that may apply.

If you're outside of the US and Canada, we can process orders via invoice so please email ashley@ashleyslightshop.com to purchase.

Orders typically go out within 1-2 business days of purchase. Please anticipate a little bit longer during holiday seasons.

Ashley's Light Shop is not responsible for delays due to customs or postal issues.